Types of Braces
Metal Braces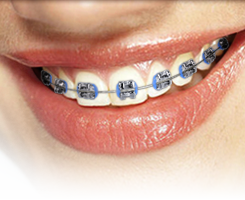 Metal braces are made of high-quality, durable stainless steel. The brackets, which are bonded to the front of each tooth, are connected by the archwire, which helps guide the teeth into the correct positions. We utilize high tech, self-ligating metal braces which allow us to often spread out the time intervals between your appointments. Today's metal braces are smaller, more comfortable and more attractive.
Ceramic Braces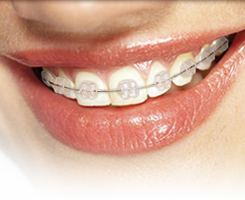 Ceramic braces move teeth just as efficiently as metal braces, except the braces are clear so they are less noticeable. Many adults and teenagers choose to have clear braces. We do NOT charge extra if you or your child desire clear braces.
Invisalign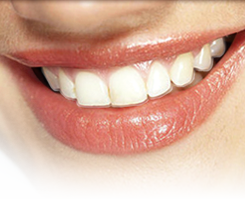 The Invisalign System is a series of clear overlay templates called aligners that have been generated by computer simulation to gradually move the teeth. This system of moving teeth is available to most of our adult patients. Ask us if you are a candidate for the Invisalign system.
Invisalign® Teen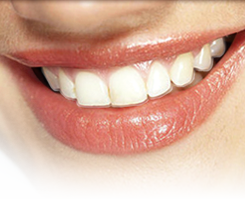 Invisalign Teen is the ideal solution for teenagers wanting to perfect their smile with confidence. This system of moving teeth is an option for many of our teen patients. Patients can still eat and drink what they want, while easily flossing their teeth. This revolutionary system is desgned specifically for teenagers and their busy lifestyles. Ask Dr. Pine if this system is a "fit" for your teen.
Damon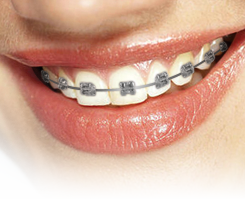 Damon braces were invented by Dr. Dwight Damon. The Damon bracket utilizes (sliding-door) technology known as "self-ligation" that allows the wire to slide back and forth within the bracket.
No elastic or steel ties are used with Damon brackets. This technology creates less friction and results in greater comfort for the patient.
Incognito™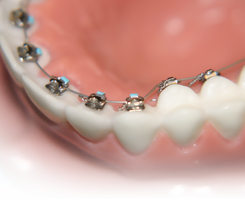 Incognito braces are a new generation of braces for teens and adults. They are placed behind the teeth. These unique braces are created using state-of-the-art technology and are 100% customized to the shape of your teeth and to your dental situation. With Incognito, you get efficient, effective tooth movement and great aesthetics.