About the Doctor
Christopher W. Pine, D.M.D., M.S.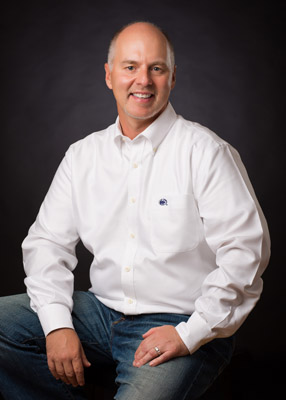 Dr. Chris Pine graduated with honors from the University of Pittsburgh School of Dental Medicine in June 1989. Following graduation, he entered a 3 year orthodontic residency at the University of Maryland School of Dentistry, where he earned his orthodontic certificate and Master of Science degree.
Dr. Pine's areas of special interest include Invisalign® and Invisalign® Teen, functional jaw orthopedics (treating jaw growth problems), treatment of temporomandibular joint disorders (TMJ/TMD) as they relate to orthodontics, and multidisciplinary adult orthodontics. Dr. Pine has provided Invisalign care in the Centre and Blair County region for over 15 years. He concentrates much of his continuing education efforts on learning how to effectively plan the treatment and outcomes necessary to create excellent results using this system of treatment. It is this knowledge that enables him to streamline his patients' Invisalign experience and create their awesome, new smiles!
Dr. Pine entered the dental field and specifically the specialty of orthodontics to help make a difference in people's lives. Having experienced the benefits of orthodontic treatment as a teenager, he realizes the transformation that he can help achieve for his patients. He loves interacting with the patients and their families and realizes that he has a responsibility to do his best to make their orthodontics experience and outcomes excellent. Dr. Pine will go the extra mile to earn his patients and their families trust.
Dr. Pine attends numerous continuing education courses throughout the year to stay current with the ever-changing field of orthodontics, which is the oldest recognized dental specialty in the world. Knowledge is the difference!
Dr. Pine is a member of the following professional organizations:
Centre Dental Society (Past President)
Pennsylvania Dental Association
American Dental Association
Middle-Atlantic Society of Orthodontists
American Association of Orthodontists
OKU Dental Honor Fraternity
Dr. Pine was born and raised in Tyrone, Pennsylvania and graduated from high school in Hollidaysburg, PA. He resides in State College with his wife Tracey and their dog Benny. Dr. Pine is an avid golfer and enjoys traveling and sharing good food with his friends and family.